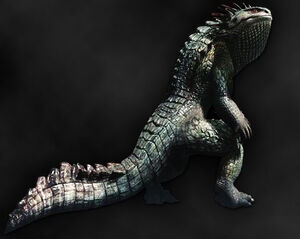 Bearing a few similarities to Dragons, the Basaran are race of wingless lizardmen. They are horse sized reptiles that are very strong and very durable. They can be bipedal, quadrapedal, or both depending on their kind and come in a variety of shapes and colors. Every Basaran also has the ability to project a potent burst of breath as a defense mechanism, and the exact type is determined by the climate in which they were raised (ex: fire, ice, poison, etc.). They experience and process emotion on a higher level than the other mortal races, and this has led them being considered the most violent and war-like race of Teilequin. While there is certainly some truth to that, they can also be the most passionate and friendly race under different circumstances. If you befriend a Basaran, you have made a friend for life.
Physical Characteristics
Edit
Height, Weight, Shape, Color, Sexual Dimorphism, Aging, and prominent features. Physical capacities too, activities that they excel in, feats of strength/speed/agility,
Behavior and Psychology
Edit
Common behavioral patterns, mannerisms, personality traits, fundamental beliefs, etc.
Society and Relations
Edit
__ASDF__
Habitat and Locations
Edit
__ASDF__
Magical Inclinations
Edit
__ASDF__
Variations
Edit
__ASDF__
__ASDF__
Racial Relations
Edit
__ASDF__
__ASDF__
__ASDF__
__ASDF__
__ASDF__
__ASDF__
__ASDF__
__ASDF__
__ASDF__
__ASDF__
__ASDF__