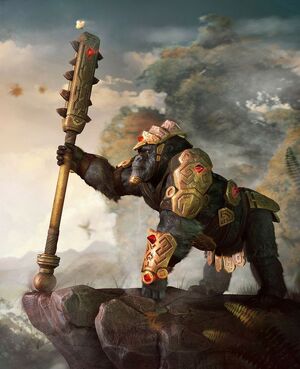 The Gorvol are large primates with a shocking twist. They possess massive strength and the capacity to produce bio-electricity for a variety of purposes. Legend has it that the first Gorvol was a regular gorilla that was struck by lightning from the gods. Enlightened by the experience, it immediately shared the divinity which it had been imbued with across others of its kind and they were the first Gorvol. The Basaran and Gorvol fought numerous times and the Basaran almost always won, forcing the Gorvol to relocate. They became nomads and stayed that way until they allied themselves with the Mojuu. Together, they prospered and through their many years of cohabitation, the Gorvol learned to fully harness their innate magics. The Gorvol are a peace loving race, but they are divided in philosophy as to whether they should fight for peace or simply embrace pacifism. After rising to the clouds on the Roc Archipelago, life has remained largely static for the Gorvol. However, every once in a while a Gorvol will charge off the islands to see if Teilequin is still as resistant to their kind as it once was.
Physical Characteristics
Edit
Height, Weight, Shape, Color, Sexual Dimorphism, Aging, and prominent features. Physical capacities too, activities that they excel in, feats of strength/speed/agility,
Behavior and Psychology
Edit
Common behavioral patterns, mannerisms, personality traits, fundamental beliefs, etc.
Society and Relations
Edit
__ASDF__
Habitat and Locations
Edit
__ASDF__
Magical Inclinations
Edit
__ASDF__
Variations
Edit
__ASDF__
__ASDF__
Racial Relations
Edit
__ASDF__
__ASDF__
__ASDF__
__ASDF__
__ASDF__
__ASDF__
__ASDF__
__ASDF__
__ASDF__
__ASDF__
__ASDF__