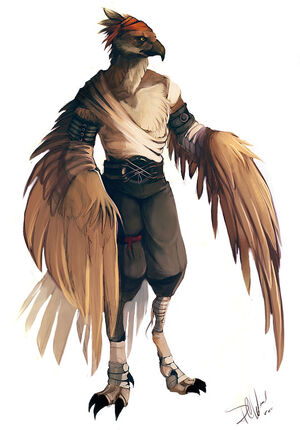 The Mojuu are an avian people, slightly smaller overall than the average Human and covered in an impressively vibrant plumage. Their wings double as arms, with the ends bearing hands with retractable talons. Though their faces are more animated than ordinary birds, they are still unmistakably bird-like. Mojuu are able to imitate a wide variety of speech patterns and noises, but their most preferred form of communication is whistling. While they are capable of flight, it is only through magic that it can be achieved. Their feathers are capable of storing magic, and are also very striking and pretty. In the past they have been hunted on the scale of genocide for their feathers and as such, they have adopted an isolationist ideology that has led to them being uncommon outside of their home, the Roc Archipelago. The Mojuu are obsessed with appearances and have many customs related to their individual plumages. They are a decisive people that spend little time in deliberation.
Physical Characteristics
Edit
Height, Weight, Shape, Color, Sexual Dimorphism, Aging, and prominent features. Physical capacities too, activities that they excel in, feats of strength/speed/agility,
Behavior and Psychology
Edit
Common behavioral patterns, mannerisms, personality traits, fundamental beliefs, etc.
Society and Relations
Edit
__ASDF__
Habitat and Locations
Edit
__ASDF__
Magical Inclinations
Edit
__ASDF__
Variations
Edit
__ASDF__
__ASDF__
Racial Relations
Edit
__ASDF__
__ASDF__
__ASDF__
__ASDF__
__ASDF__
__ASDF__
__ASDF__
__ASDF__
__ASDF__
__ASDF__
__ASDF__