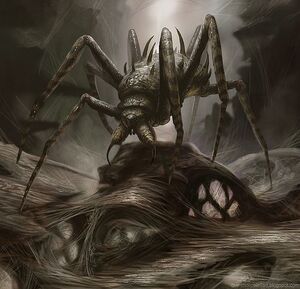 The Xogar are an arachnid race that once reigned supreme over all of Caevaria. They are about what one might expect from an arachnid people; spider-like in their appearance, generally about the size of a large dog, coated in hard chitin that ranges from black to brown to gray to green, and with occasional bits of thin hair here and there. Most notably, of course, they are an eight-limbed race, and each of these limbs has prehensile capability to perform a variety of functions. Their primary form of communication is a clicking noise produced via their mandibles, but they are also able to excrete a silky web-like substance that can be used to write out what they wish to say. Xogar are notoriously unfeeling, almost exclusively operating based on logic and reason. Unfortunately, what they find to be logical and reasonable often differs from the other races, and their intent is frequently misunderstood. The Xogar are valued for their incredible potential as tinkerers. These eight-limbed inventors developed an understanding of magical crafting that to this day eludes the other races.
Physical Characteristics
Edit
Height, Weight, Shape, Color, Sexual Dimorphism, Aging, and prominent features. Physical capacities too, activities that they excel in, feats of strength/speed/agility,
Behavior and Psychology
Edit
Common behavioral patterns, mannerisms, personality traits, fundamental beliefs, etc.
Society and Relations
Edit
__ASDF__
Habitat and Locations
Edit
__ASDF__
Magical Inclinations
Edit
__ASDF__
Variations
Edit
__ASDF__
__ASDF__
Racial Relations
Edit
__ASDF__
__ASDF__
__ASDF__
__ASDF__
__ASDF__
__ASDF__
__ASDF__
__ASDF__
__ASDF__
__ASDF__
__ASDF__